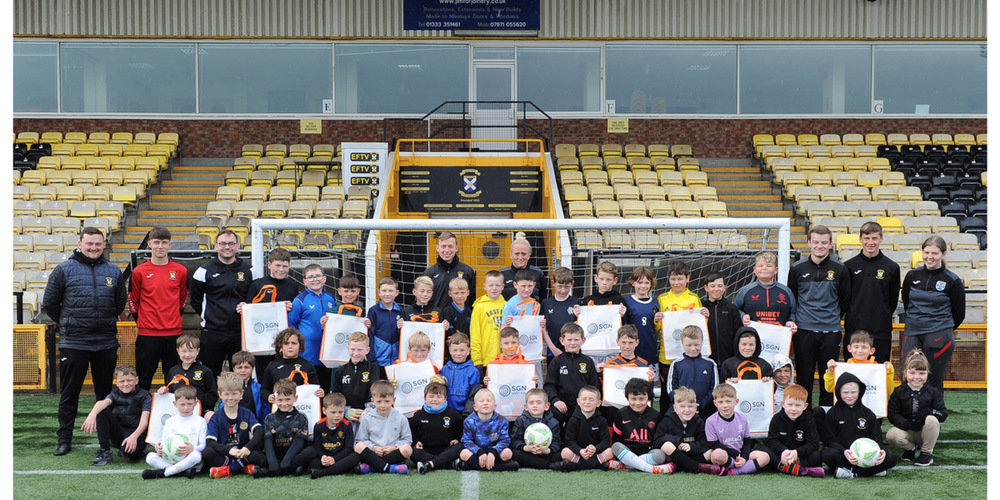 East Fife Community Football is delighted to announce a sponsorship agreement with SGN H100 Fife that will allow us to offer affordable kids holiday camps throughout school holidays with the introduction of a pay-what-you-can model. We hosted the first camp during the Spring Break where over 150 participants attended at The MGM Timber Bayview Stadium.
SGN Project Marketing Manager Eilidh Graham said: "Our world-first H100 Fife project is thrilled to sponsor East Fife Community Football Club's 'Pay-What-You-Can' Camp, allowing over 150 children from the local area to enjoy two weeks of affordable, fun football.
"It's really important for us to be part of the local community where H100 Fife is taking place, by supporting organisations like EFCFC in the work they are doing in the holiday camps and more widely in the schools. We hope the kids all had a fantastic two weeks and look forward to seeing them again in the summer."
EFCFC's Tony McMinn said "With the support of H100 Fife we have been able to increase young people's participation in sport where previously cost would have been a barrier. We are working closely with our local school partners to ensure families are aware there is no cost to these programmes should they wish to attend. Any donations we do receive will go into helping provide more free and affordable activity in the Levenmouth area."
EFCFC can announce this partnership will continue into the summer with more details to be announced soon. Follow East Fife Community Club on Facebook or visit www.eastfifecommunityfootballclub.com.
H100 Fife is a first-of-a-kind demonstration project that's leading the way in decarbonising home heating. It's taking place in Buckhaven and Denbeath where up to 300 homes will be connecting to the world's first green hydrogen gas network from 2024. If you would like to find out more about the project, you can visit us at www.H100Fife.co.uk.
Back to news