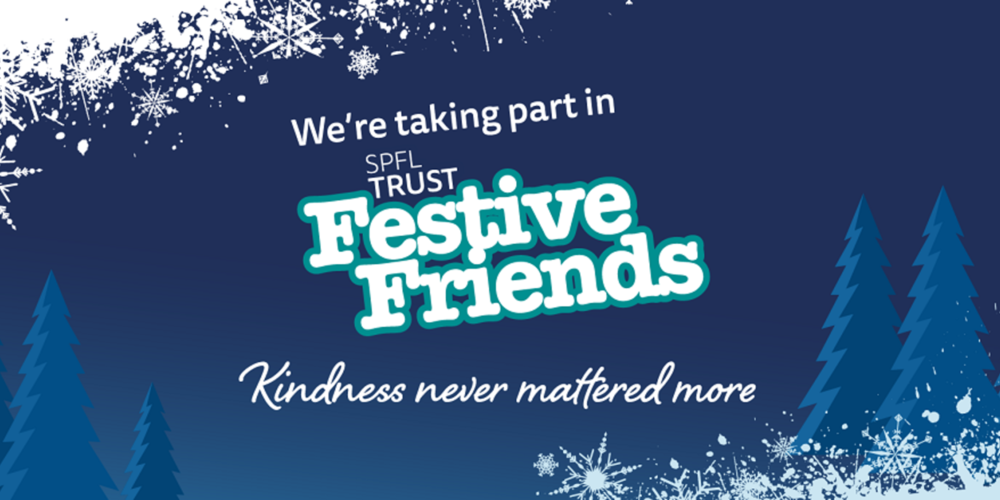 East Fife CFC spreads Christmas cheer to people at risk of isolation through SPFL Trust Festive Friends campaign
Key headlines:
East Fife CFC are set to take part in Festive Friends
All 42 community trusts and SPFL clubs involved for the first time, as well as Cowdenbeath (43 in total)
Over 4,000 people across Scotland will be supported by Festive Friends this year
A record £133,000 has been committed to this year's campaignThis year's campaign will see the continuation of last year's doorstep visits to people who are at risk of social isolation
While there will also be physical events across the country, including Christmas lunches and dinners at stadiums
East Fife CFC are bringing Christmas cheer to those that need it most this year by taking part in the biggest-ever Festive Friends programme during the holiday season.
Festive Friends is a brilliant opportunity for clubs to give back to their local communities.
The SPFL Trust programme is now in its seventh year and, for the first time, all 42 SPFL clubs are taking part in the campaign, including East Fife CFC.
Cowdenbeath will also deliver Festive Friends after being granted a year's grace following their relegation to the Lowland League.
The campaign has the largest-ever fund this year, a total of £133,000, which means the SPFL Trust will be able to support an extra 1,000 people via clubs and community trusts.
As such, the programme is expected to support over 4,000 people this year across Scotland.
It's been a difficult year so far for everyone with the cost of living crisis, but, of course, winter is always a particularly tough time for the elderly, who are at higher risk of social isolation.
Festive Friends brings Christmas cheer and companionship to elderly people who are socially isolated and at risk of being alone during the festive season.
Almost 9,000 people have enjoyed Festive Friends in the last six years and that number is expected to reach nearly 15,000.
Hampers usually contain food, snacks, essential toiletries, gifts, games and more. Some clubs even send video messages from managers and players; others have players make personal deliveries.
This year, given the current crisis facing the country, the SPFL Trust has also organised for Age Scotland Friendship Line flyers to be distributed in each hamper featuring helpful information.
This year East Fife CFC and the Community Trade Hub staff and volunteers will continue to visit participants with hampers and welcome participants to the ground to enjoy a hot Christmas lunch, fun and games, a club gift and transport there and home.
SPFL Trust CEO Nicky Reid said: "Festive Friends is one of our biggest events at the SPFL Trust and for our colleagues at clubs and community trusts.
"It's all about coming together to have a real impact in the lives of elderly and isolated people over the festive period - reaching more people than ever this year.
"It's the Christmas spirit in action as we see the power of football in spades - with clubs spreading cheer in their communities.
"Scottish football is trusted to support, and our recent research shows that almost 83% of people live within ten miles of a SPFL ground - because of this clubs and their associated community trusts are well positioned to effect this type of change in their communities.
"This year 43 SPFL clubs are involved making it our biggest programme yet, supported by a record-breaking fund of £133,000. We look forward to supporting more elderly people than ever before, after all kindness never mattered more."
East Fife Community Football Club are delighted to be working alongside East Fife FC and the Community Trade Hub to deliver this year's festive friends.
Charities working together with the Football club to not only deliver Festive friends and reach out into the community to support our elderly residents, but also supporting our young people from the Community Trade Hub who are completing their Guided start hospitality and working towards an SQA in personal development.
For more information on Festive Friends visit: www.spfltrust.org.uk/festivefriends
Back to news